Posts for tag: nutrition
By Scripps Ranch Periodontics & Implants
June 02, 2021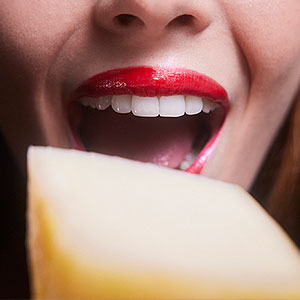 Here's a bit of magic: Hold your smart phone camera in front of someone and say, "Cheese!" More times than not, they'll break into a smile. No one knows for sure the origin of this grin-inducing phrase, but it works like a charm. And it's quite appropriate too! That tasty aging of proteins and fat also helps to keep the stars of our smile—our teeth—in good health.
In the fight against tooth decay and gum disease, daily oral hygiene—brushing and flossing—and regular dental visits get top billing. But nutrition is also a critical factor for great dental health.  A diet low in sugar and processed foods and rich in whole foods can also lower your dental disease risk.
Dairy is an important part of this "tooth-friendly" eating. In recognition of National Dairy Month this June, here's how products like milk and cheese can help you maintain a healthy—and photogenic—smile.
Nutrients. Dairy products like milk and cheese are chock full of vitamins and minerals. Two of the most important are calcium and phosphorous, both of which the body uses to build strong bones and teeth. The micronutrient Vitamin D found heavily in dairy helps regulate these important minerals so that they're available for teeth.
Reduced decay risk. Cheese and other dairy products do contain a form of sugar called lactose. But it has a milder effect within the mouth than other sugars, particularly sucrose (refined sugar): While bacteria readily feed on sucrose and release enamel-eroding acid as a by-product, they're less likely with lactose. Even so, there's still a risk, albeit lower, of lactose leading to tooth decay, so go easy on consumption.
Acid buffering. Speaking of acid, cheese in particular seems to contribute to neutralizing this bacterial byproduct. It's believed it does this by stimulating saliva production, which is the body's primary means for restoring proper pH balance in the mouth after eating. So, eating a little cheese during or after consuming a food with sugar may help offset any acid resulting from the sweet snack.
Cheese and other dairy products are a good source of protein, but also fat, so they should be consumed in moderation for overall health. But nibbling on a bit of Gouda, Havarti or Mozzarella can be a good thing for your teeth—and make it more likely you'll smile wide for the camera.
If you would like more information about the role of nutrition in better dental health, please contact us or schedule a consultation. To learn more, read the Dear Doctor magazine article "Nutrition & Oral Health."
By Scripps Ranch Periodontics & Implants
May 23, 2021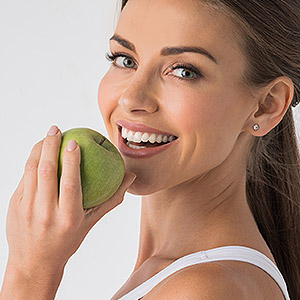 You're more apt to lose teeth because of periodontal (gum) disease and tooth decay than any other cause. But neither of these bacterial diseases have to happen: You can prevent them through daily brushing and flossing and twice-a-year dental cleanings.
But that's not all: You can also boost your dental care practices by eating foods that strengthen and protect teeth. On the other hand, a poor diet could reduce the effectiveness of your oral hygiene practices in preventing tooth decay or gum disease.
A diet that might lead to the latter is often high in refined sugar (sucrose), often added to processed foods and snacks to improve taste. But sucrose is also a top food source for oral bacteria, increasing their numbers when it's readily available. A higher bacterial population greatly increases your risk for tooth decay or gum disease.
On the other hand, certain foods benefit your overall dental health. Fresh fruits and vegetables, for example, are filled with nutrients and minerals like vitamin D or calcium that strengthen teeth against disease. And although they can also contain natural sugars, these don't pose the same problems as added sucrose due to the plant fiber you consume with them.
Dairy foods can also help you maintain healthy teeth and gums. Milk and cheese contain minerals like calcium and phosphorus, and a protein called casein, all of which strengthen teeth against decay. The enzymes in cheese stimulate saliva, which in turn neutralizes mouth acid and prevent it from harming enamel.
Some foods are also natural sources of fluoride, a mineral that strengthens tooth enamel. One example is black tea, which also, along with green tea, contains antioxidants that protect against cancer.
The best strategy for "tooth-friendly" nutrition is to pursue a diet that's high in fiber-rich natural foods and low in sugar-added processed foods. In practice, you'll want most of your diet to consist of fresh fruits and vegetables and low-fat dairy food, while minimizing foods with added sugar.
Following this kind of diet will certainly benefit your overall health. But it will also make it easier for you to prevent dental disease and keep your teeth and gums healthy.
If you would like more information on how nutrition can boost your dental health, please contact us or schedule an appointment for a consultation. You can also learn more about this topic by reading the Dear Doctor magazine article "Nutrition & Oral Health."
By San Diego Dental Implant Center
May 12, 2020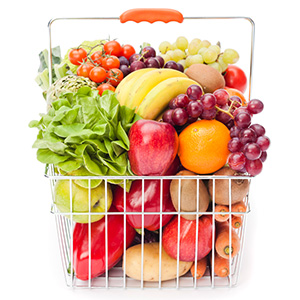 Oral cancer is one of the more dangerous malignancies people face. But there are ways you can reduce your risk of this deadly disease through changes in lifestyle habits and behaviors.
Two of the better known behaviors for increased oral cancer risk are immoderate consumption of alcohol and the use of tobacco, particularly chewing tobacco and snuff. Eliminating these, especially the latter, can vastly improve your odds of avoiding cancer. Another factor is a strain of the human papilloma virus (HPV 16) that's transmitted sexually, which you can avoid through safe sex practices.
In addition to these lifestyle changes, there's one more you should make to lower your oral cancer risk: adjustments to your diet. Research over the last half century has provided ample evidence of a link between the foods we eat and our risk of all types of cancers, including oral.
The biggest concern is over certain elements in some foods that can damage DNA, the molecular "operating instructions" that regulate the formation and function of our bodies' cells. These elements are collectively known as carcinogens because of their role in cancer formation.
An example of a carcinogen is a group of chemicals called nitrosamines. These form during preservation processes using nitrites in meats like bacon or ham. They're also found in beer or certain preserved fish. To limit your consumption of nitrosamines, you should reduce these and other processed products and replace them with fresh fruits and vegetables, or organic meats and dairy products.
Our DNA can also be damaged by unstable molecules called free radicals that arise during normal cellular function. But there are also substances known as antioxidants that help protect the cells from free radical damage. Many plant-based foods contain nutrients like vitamins C and E that have antioxidant properties, so including them in your diet could help reduce your oral cancer risk.
Several clinical studies over the years have been consistent in their findings that a diet rich in fresh fruits and vegetables can reduce the risk of oral or throat cancers, as well as other forms of cancer. Making changes to your diet in that direction, plus other lifestyle changes, could help you avoid this devastating oral disease.
If you would like more information on preventing oral cancer, please contact us or schedule an appointment for a consultation. You can also learn more about this topic by reading the Dear Doctor magazine article "Diet and Prevention of Oral Cancer."