Posts for tag: oral hygiene
By San Diego Dental Implant Center
July 31, 2020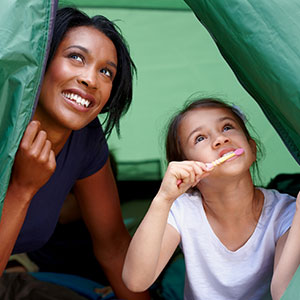 COVID-19 containment restrictions could put a kink in many of our vacation plans this summer. With leisure air travel discouraged and popular attractions like Disney closed, this may be the year for a "staycation." But however your summer plans turn out, be sure you keep up with the essentials—like taking care of your teeth and gums.
Vacations, whether a road trip or a camping getaway in your own backyard, are times to recharge the "mental batteries" by temporarily leaving everyday life behind. But not everything—you still need to take care of life's necessities, including daily dental care. Not to sound like a schoolmarm, but there is no vacation from brushing and flossing.
Actually, it's not that onerous: Just five short minutes a day is all you need to effectively perform these two essential hygiene tasks before you head out for your vacation activities (or non-activities, as the case may be). During those five minutes, though, you'll be removing built-up dental plaque, a bacterial film that's the top cause for tooth decay and gum disease.
You should also keep an eye on your vacation diet. For many people, seasonal getaways often come with an increase in sweet treats like pastries, ice cream or, the perennial campfire favorite, s'mores. But increased sugar may also raise your risk for dental disease. So, limit those sweet treats, consider alternative snacks without sugar, and brush after eating to keep tooth decay or gum disease from getting a foothold.
An equally important measure for maintaining healthy teeth and gums is a regular dental visit at least twice a year. During these visits we'll clean your teeth of any missed plaque or tartar (hardened plaque) and check for any signs of dental disease. Our goal is to keep you in the best oral health for the long haul.
Everyone needs a break from the routine now and then, even if it's a creative alternative to the traditional summer trip. Just be sure you have your dental care covered before your vacation.
If you would like more information about daily and regular dental care, please contact us or schedule a consultation. To learn more, read the Dear Doctor magazine articles "Daily Oral Hygiene" and "The Bitter Truth About Sugar."
By San Diego Dental Implant Center
June 21, 2020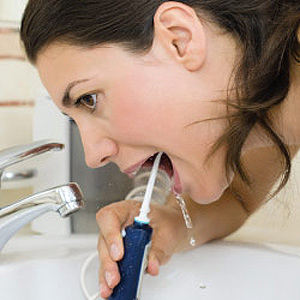 A critical part of effective, daily oral hygiene, flossing removes bacterial plaque from between teeth that can't be accessed with brushing. Unfortunately, it's often neglected — string flossing requires a bit more dexterity than brushing and can be difficult to do properly.
It can be even more difficult for people with implants or who wear orthodontic appliances. For brace wearers in particular, getting access to areas between teeth with string floss is next to impossible; the metal brackets and tension wire also have a tendency to catch and retain food debris that's difficult to remove with brushing alone.
Water flossing, using a device called an oral irrigator, is an effective alternative that addresses many of these difficulties. First available for home use in the 1960s, an oral irrigator delivers pulsating water at high pressure through a handheld applicator that forcefully flushes material from between teeth.
There's no question that string flossing is effective in plaque removal between teeth — but what about oral irrigators? A 2008 study looked at a group of orthodontic patients with braces who used oral irrigators and compared them with a similar group that only brushed. The study found that five times as much plaque was removed in the group using the oral irrigators as opposed to the group only brushing.
Oral irrigators may also be effective for people who've developed periodontal (gum) disease. In fact, oral irrigators coupled with ultra-sound devices are routinely used by dental hygienists to remove plaque and calculus (hardened plaque deposits) in periodontal patients. As with regular oral hygiene, though, it's important for patients with gum disease to include water flossing with daily brushing (at least twice a day) and regular cleaning sessions at the dentist to ensure removal of all plaque and calculus.
If you're interested in using an oral irrigator, be sure to consult with us at your next appointment. Not only can we recommend features to look for in equipment, but we can also instruct you on the techniques to make water flossing an effective plaque remover.
If you would like more information on water flossing, please contact us or schedule an appointment for a consultation. You can also learn more about this topic by reading the Dear Doctor magazine article "Cleaning Between Your Teeth."
By San Diego Dental Implant Center
March 03, 2020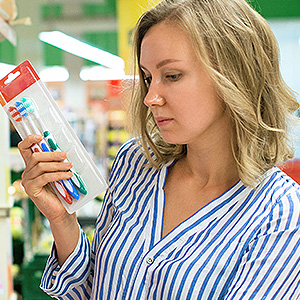 If there's one essential tool for dental health, it's the toothbrush. But though simple in basic design, manufacturers have nonetheless created a dizzying array of choices that often muddy the decision waters for consumers.
It doesn't need to be that way—you can choose the right toothbrush like a boss. First, though, you need to know a toothbrush's purpose expressed as two basic tasks: removing dental plaque, the thin biofilm that causes most dental disease; and stimulating the gums to maintain good health.
So what should you look for in a toothbrush to effectively perform these tasks? Here are 3 important factors to consider when buying this essential dental care tool.
Bristle quality. First, it's a myth that bristles should be hard and stiff to be effective—in fact harder bristles can damage the gums. Opt instead for "soft" bristles that are also rounded on the ends. And look for bristling with different levels of length—shorter length sections work better around the gum line; longer sections help clean back teeth more effectively.
A "Just right" size. Toothbrushes aren't uniform—you'll need to choose a size and shape that works well for you personally. You might find an angled neck or a tapered head easier for getting into your mouth's hard to reach places. If you have problems with dexterity, look for a brush with large handles. And be sure to ask us at the dental office for recommendations on brush dimensions that are right for you.
ADA Seal of Acceptance. Just like toothpaste brands, the American Dental Association assigns its seal of approval to toothbrushes they've evaluated and found to meet certain standards. Although you can find high quality toothbrushes that haven't sought this evaluation, an ADA seal means it's been independently tested and found safe and effective for use.
Of course, no matter how high quality the toothbrush you buy, it'll only be as effective as your brushing technique. So, be sure to use gentle circular or oval motions along all your teeth and gumline surfaces—it should take you about two minutes. We'll be happy to show you the proper technique in more detail, so you'll be able to get the most out of your chosen toothbrush.
If you would like more information on effective daily hygiene practices, please contact us or schedule an appointment for a consultation.